The Hotel St Christophe is situated close to the Gare de Lyon.
The Gare de Lyon is well known throughout France for its imposing architecture. Its situation in the center of Paris, makes it a hub for local and regional train lines. The station is also famous for its shopping facilities and for its restaurants.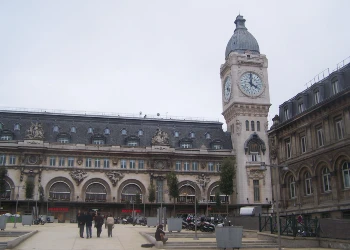 Some history of The Gare de Lyon.

Before 1849, the Gare de Lyon was a simple station. However after extensive renovation and rebuilding,emerged the magnificent station we now admire with its huge clock tower and its impressive façade. It is only minutes away from the Latin Quarter. Inside the station are many hidden artistic gems such as the beautiful fresco created by Jean-Baptiste Olive. Both the exterior and the interior of this iconic building are well worth a visit. And why not ascend the great staircase and dine in the acclaimed restaurant Le Train Bleu where Baroque meets La Belle Epoque!
Back to the Hotel St Christophe from the Gare de Lyon.

Our guests at the
Hotel St Christophe
in the Latin Quarter, invariably enjoy visiting the Gare de Lyon which is a short walk from the hotel, on the other bank of the Seine. The Latin Quarter is a dynamic and colourful area. Take time to explore its historic treasures, then enjoy the many restaurants and bars which you will find there. Why not take a train at the Gare de Lyon and explore even further afield?