The Pantheon is situated on the Montagne Sainte-Geneviève, in the 5th District of Paris, 10 minutes on foot from the Hotel St Christophe.
Neoclassical in style, the Pantheon is situated at the centre of the Latin Quarter (5th District of Paris), near the Jardin du Luxembourg , the Jardin des Plantes and the Arènes de Lutéce. The name Pantheon is derived from the Ancient Greek word meaning "common to all the gods" The Pantheon was built in the Eighteenth century as a church to honor St Genevieve. Since the French Revolution its role has been to celebrate the memories of significant Frenchmen and women. In here are the remains of Jean Monnet, Jean Moulin, André Malraux, Voltaire, Jean-Jacques Rousseau, Alexandre Dumas, Pierre and Marie Curie, Victor Hugo etc. The building was restored before the French Revolution by the famous architect, Soufflot. He is buried within.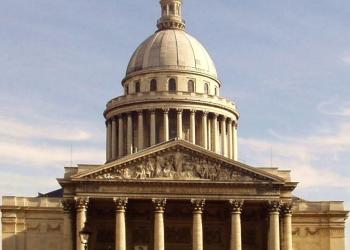 The Pantheon, near the hotel St-Christophe
You can visit the building with the help of an explanatory document provided.
Entry : you can get the price there.
Opening Hours
From 1st April to 30th September: 10am to 6.30pm.
From 1st October to 31st March: 10am to 6pm.
Closed 1st January, 1st May, 25th December.
Acces
Place du Pantheon 75005 Paris
RER B: Station Luxembourg
Bus : Lines 21-27-38-84-85-89
Enjoy your visit!