THE LATIN QUARTER
The Hotel St Christophe is ideally situated for exploring the Latin Quarter and nearby are many of the most beautiful Parisian monuments
The Latin Quarter of Paris lies on the left bank of the River Seine, partly in the 5th Arondissement and partly in the 6th Arondissement (North and East) Its historic center is the Sorbonne with the Montagne Sainte-Genevieve. The name "Latin Quarter" is derived from the exclusive use of Latin for all university teaching here, in the Middle Ages.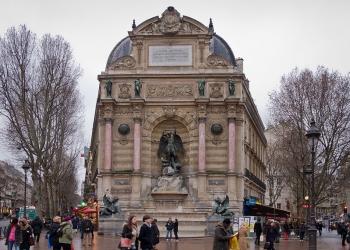 History of the Latin Quarter
World-wide today, the Latin Quarter is perhaps the best-known part of Paris .Running through it is the "Cardo de Paris" the historic route which was vital for the settlement, Lutèce. This North-South axis was created by the Romans and is represented today by the Rue St Jacques and the Boulevard St Michel. As you visit the area you will see much evidence of the Gallo-Roman period of history for example the Thermes de Cluny dating from the first and second centuries AD. Also the famous Arènes de Lutèce.
Education and learning in the Latin Quarter
This is a lively area with many students and professors and numerous universities. There is the famous Sorbonne as well as Assas and Jussieu. There are also the "Grandes Ecoles" prestigious centers of learning such as L'Ecole Normale Supérieure, les Beaux Arts, L'Institut Supérieur des Arts Appliqués, Les Mines Paris Tech. Until the mid 1970s the Ecole Polytechnique and L'ESSEC were also here. As well as these establishments of higher education there are also many prestigious Colleges and High Schools for example, Louis –le-Grand, Fénelon, Henri iv, Stanislas and Montaigne. The Latin Quarter was also one of the main starting points for the student protests in the 1960s which then developed into the student revolution of 1968. Take time to wander at your ease in this magic area. You will be enchanted by some of Paris's most lovely monuments –the Panthéon, The Palais de Luxembourg (le Sénat), Le Jardin de Luxembourg, the church of St Sulpice, La Fontaine Saint-Michel. Don't forget to visit the Roman remains-the Thermes de Cluny and the Arènes de Lutèce. So if you are asking yourself when in Paris where to stay? Obviously it has to be the Latin Quarter!