THE PLACE DE LA CONTRESCARPE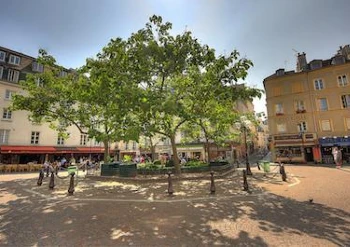 The Hotel Saint Christophe is ideally situated near La Place de le Contrescarpe
The charming Square is pedestrianised and is the meeting place for students from the Sorbonne and other local universities within the Quartier Latin de Paris. Surrounded by bars, restaurants and historic buildings, culture and history intermingle in this quarter "le plus ancient de Paris".
Some History of the Contrescarpe
The Contrescarpe is the administrative centre for the 5° Arondissement. Nearby are the Sorbonne and the Jardin des Plantes. In 1852 the destruction of dwellings between the Rue Mouffetard, the Rue Lacépède and the Rue Cardinal-Lemoine allowed the opening up of this thoroughfare. There remained a small area, protected by barriers. Today the site has been made more accessible and you can admire a small (40metres) square which is charming both by day and by night. Decorated and illuminated for National and International Fêtes. There is an attractive fountain as well as architecture from the seventeenth century. Here you will find both a peaceful haven and a lively atmosphere.
The Hotel is ideally located in the Quartier Latin of Paris
The hotel is on the Rue Lacépède at the end of which is the Place de la Contrescarpe, so the hotel is in the Quartier Latin. The Hotel Saint Christophe takes its name from the saint who protects all travelers. You will enjoy the tasteful and stylish decoration of the hotel and the warm welcome of our personnel. WIFI is available, although you may prefer to stroll and enjoy the historic surroundings. The famous and not to be missed Place Contrescarpe is but few metres from the hotel as are very many other historic sites.